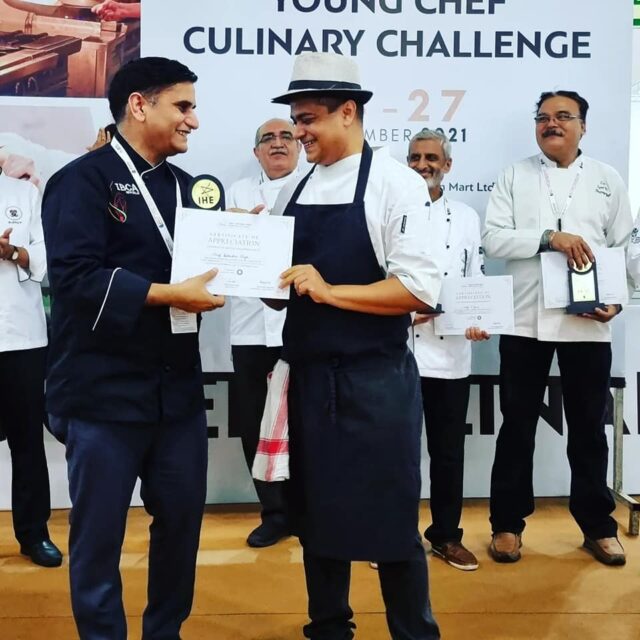 New Delhi: After an astounding success of its maiden edition in 2020 (virtual), India International Hospitality Expo (IHE) was hosted its fourth edition in 2021. The 4-day of kind hospitality event was held at India Expo Centre and Mart Greater Noida Expressway. The aim of this event is to make the hospitality industry a catalyst for economic growth, IHE 2021 has created an international podium that will pave the way to celebrate innovation and create opportunities for its esteemed visitors and exhibitors. Also, spreading the knowledge and experience in young talents.
With unparalleled patronage from industry leaders in the 2020 virtual event, this year, IHE has expanded its reach targeting 170+ exhibitors, showcasing the best from the global hospitality industry. IHE organised a competition ICF Young Chefs Culinary Challenge, a vibrant event where more than 170 students from hotel management colleges participate in five categories of competitions. Also, master classes were conducted by industry top chefs to share knowledge and experience among the students. In this competition Institute of Baking and Culinary Arts is in the first position. Students won 4 gold, 4 silver, 3 bronze, and 1 jury award.
Rakesh Kumar, Chairman of India Exposition Mart Limited says, "We had received a very positive response from our domestic as well as International Exhibitors and Visitors during IHE 18 and 19. While we went virtual with IHE 20, at IHE 21, more than 170 exhibitors show their presence, 8000+ visitors came to the event which is a positive response to us. And more than 170+ hospitality students participate in the event. For 2022 we're aiming to create India International Hospitality Expo into Asia's Biggest Hospitality and F&B show and I thank everyone who has supported us in our journey."
Balendra Singh, Director- Institute of Bakery and Culinary Arts says, "IHE is the big platform for companies to show their product and a perfect platform for students to show their talents and experience the hospitality sector. I am very proud of the students who won the awards for their institute.