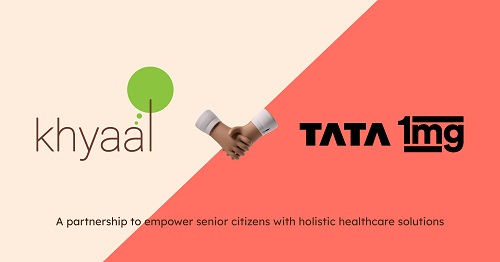 Khyaal, Indias number #1 senior citizen app, is thrilled to announce its strategic partnership with Tata 1mg, a leading digital healthcare platform. This collaboration marks a significant step towards enhancing the quality of life for senior citizens across India.
Collaboration of Khyaal and Tata 1mg
Under this alliance, Khyaal and Tata 1mg will work in tandem to offer integrated health and wellness services tailored exclusively for the senior citizen community. This includes designing and conducting workshops and informative sessions aimed at promoting health, well-being, and an active lifestyle among seniors.
One of the key highlights of this partnership is the provision of safe, affordable, and convenient access to essential medications and diagnostic tests. Seniors can now avail of this service themselves from the comfort of their homes through the on-demand assistance feature on the Khyaal app. This innovation ensures that senior citizens receive timely and hassle-free deliveries of their prescribed medicines and home sample collection for diagnostic tests, fostering greater independence and peace of mind.
Hemanshu Jain, CEO of Khyaal, expressed his enthusiasm about the partnership, stating, "This collaboration aligns perfectly with our mission of enhancing the lives of our seniors through technology-led solutions."
Prateek Verma, Sr VP, Tata 1mg, remarked, "We are excited to join forces with Khyaal to address the unique healthcare needs of senior citizens. This partnership exemplifies our dedication to providing accessible and tailored healthcare solutions to all segments of society."
​