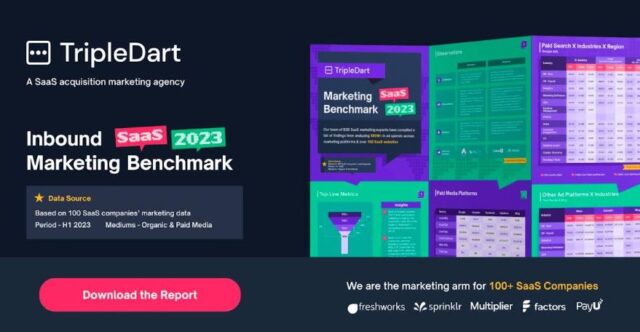 TripleDart, a global front-runner in B2B SaaS marketing, has proudly announced the next chapter in its growth story. As part of its commitment to empower SaaS brands worldwide, the agency is expanding its operations to the US & Europe, marking a new era of international collaboration.
TripleDart SaaS benchmark Report
Shiyam, TripleDarts CEO, remarks, "Following our triumphant expansions into the APAC & UK, we are setting sights on the vast horizons of the US & EMEA. Our experience shows that performance marketing transcends boundaries, and were eager to support the global B2B SaaS community more closely."
Currently, TripleDart boasts partnerships with over 100 B2B SaaS brands, ranging from industry giants like Freshworks and Sprinklr to fast-growing names like Unacademy and Multiplier. A testament to their unparalleled prowess, the agency saw a 300% growth surge just this past year. Their team, spanning six countries, has been pivotal in managing an impressive $100 Million ad portfolio, spanning platforms from Google ads, linkedin to Reddit, podcasts and out of home advertisements.
This year, the company has further refined its expertise, offering holistic solutions including SEO, brand development, performance creatives, and even revenue operations. Their leadership team too saw the inclusion of seasoned industry veterans, Mahesh Sundararaman and Sudharshan Narasimhan, further fortifying TripleDarts commitment to excellence.
Clients sing praises for the agencys hands-on approach. Tom Price Daniel, CRO of Teamed Global, attests, "Working with the TripleDart team feels like having an extension of our own company. Their alignment with our vision truly signifies a partnership where our successes are mutual." Jesse Ocon of Growth Nirvana mirrors this sentiment, highlighting TripleDarts impeccable SEO strategies and unmatched support.
Anticipating the agencys European, US foray, Mahesh, the newly inducted director of growth, expressed, "Having transformed the SaaS market scenario in APAC, we are all geared up for our European & US chapter. Its an exhilarating phase for all of us at TripleDart."
About TripleDart
Established in 2020 and operating from its Bengaluru headquarters, TripleDart stands out as a beacon for SaaS brands, driving robust lead generation and business growth. Their unique approach, symbolized by the three darts – Confidence, Impact, and Ease – ensures that SaaS businesses get a running start on their demand generation endeavors from day one. As TripleDart soars towards its mission of refining SaaS marketing for 10,000 individuals by 2025, the future only looks brighter.
For further insights, visit TripleDart at www.tripledart.com or connect on Linkedin at TripleDart Digital.
​