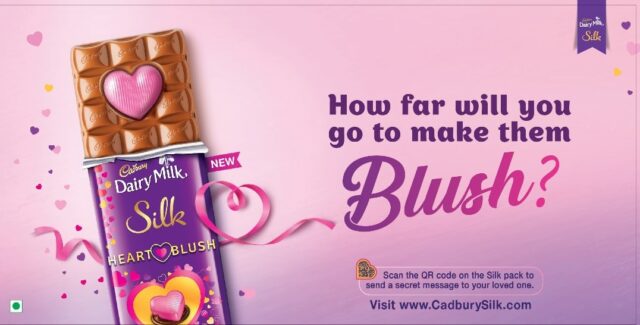 India: This Valentine's Day, Cadbury Dairy Milk Silk, India's favourite premium chocolate from Mondelez India, plays cupid once again to take the revelries a notch higher by helping couples make a grand gesture of love, while still keeping it a secret only they can cherish, with the campaign #HowFarWillYouGoToMakeThemBlush. Cadbury Dairy Milk Silk has introduced real time personalization of Augmented reality experience for the first time. This enables consumers to unlock TV spots, newspapers, hoardings and even open spaces at home to see custom messages sent by their loved ones in a fully immersive 360-degree virtual environment. The brand also added a crimson blush to the season of love by molding the same proposition and further aiding young ones to express their deepest feelings with a new era of Heart Pop – a strawberry-flavored heart pop.
The latest decadent offering in the form of strawberry-flavoured white chocolate heart pop surrounded by yummy silky-smooth Cadbury Silk chocolate brings alive the playfulness of sharing secret love messages and is all set to make hearts flutter and evoke a blush.
Anil Viswanathan, Vice President – Marketing, Mondelez India said, "Over the years, the overwhelming response to 'Pop The Heart' has made Cadbury Dairy Milk Silk a medium of expression and with the new heart center, the aim is to become an everlasting ritual to celebrate love. We understand that the definition of a relationship is evolving, and with the digital age, as the world becomes more and more inclusive, couples want their relationship as exclusive as possible, and we as a brand want to aid the celebration, the way they'd like it. To secure this special place, with #HowFarWillYouGoToMakeThemBlush, the personalized Augmented reality technology, which is a first for the nation, empowers our consumers to go all out, secretly, when expressing their love. We truly hope that this year again our brand strikes a chord with all our consumers and make them blush."
Zenobia Pithawalla, Senior Executive Creative Director and Mihir Chanchani, Executive Creative Director from Ogilvy India, said the thought came from "How do you put a chocolate with a pink heart in the centre, at the centre of Valentine's Day celebrations? We knew that most romances in our target audiences of teenagers are secret romances. So, this Valentine's Day we decided to help young lovers in India shout out their love for their loved ones and yet keep it a secret from prying eyes. Introducing – Cadbury Silk Secret Messages. With help from out tech partner, 8th Wall – we used personalization of Augmented Reality to turn every Silk hoarding, bus shelter, poster, press ad and POS materials into a personalized secret message between lovers, which only they can see. So now, they can literally proclaim their love from rooftops and yet keep it a secret. What better way to make them blush? Bringing alive the unique product idea and branding of this new product called Silk Heart Blush."
"Giving people the ability to create a romantic message for their special someone on Valentine's Day is a great example of how brands can use WebAR to create meaningful and personal branded experiences," said Erik Murphy-Chutorian, CEO and Founder of 8th Wall. "We are pleased to see Ogilvy use our tools to create a memorable WebAR experience that will reach millions of users across the country."
Shekhar Banerjee, CEO Wavemaker, added "Innovative use of tech can make any idea more immersive. We have been doing this consistently across our campaigns and with Silk's #HowFarWillYouGoToMakeThemBlush, we are taking it a notch higher from personalized messaging to personal messaging. Thanks to our media partners, we were able to give young couples an opportunity to express their feeling on public platforms, whilst keeping it a secret!"
The 360-degree campaign introduced with a shortie brings alive even the most awkward, yet romantic, expressions of love with utmost secrecy, making hearts race and cheeks blush across the country. The brand paints the town pink with a special pack, i.e., QR Codes on the Silk Valentines' Day packs, that lead consumers to a microsite where they can create and share custom messages with their special someone. By scanning any Cadbury Dairy Milk Silk hoarding, print advertisement etc. with the special AR filter, the receiver will be able to see the secret message come alive on the Ad. If the receiver is not able to step out of home for any reason, they can still see the message on a hoarding in an immersive virtual environment of the moon surface created in Augmented reality. Along with this, Cadbury Dairy Milk Silk has also tied up with Spotify, where users can create custom playlists with unique hidden voice messages from their respective partners, something only accessible to the two.
Ranging from Rs. 70 to Rs. 650, the Cadbury Dairy Milk Silk Valentines' Day portfolio will be available across all trade and ecommerce platforms.