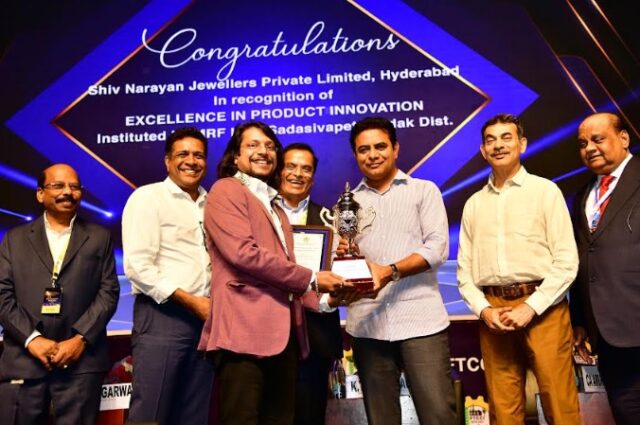 Shiv Narayan Jewellers, the esteemed jewellery house of Hyderabad, has been honoured with the Excellence in Product Innovation award by the Federation of Telangana Chambers of Commerce & Industry (FTCCI). The accolade was presented by the Honourable Minister Sri K.T. Rama Rao, recognizing the exceptional craftsmanship and creative brilliance displayed by Shiv Narayan Jewellers.
Shiv Narayan Jewellers receives FTCCI Award
Three years ago, Shiv Narayan Jewellers embarked on a remarkable journey to create four iconic masterpieces that would captivate the world. Meticulously crafted with a perfect blend of modern technology and age-old techniques, these exceptional creations – The Ganesh Pendant, The Ram Darbar Pendant, The Satlada (Seven-Layer) Necklace, and The Magnifying Glass – have set new benchmarks in the realm of jewellery design and innovation. The unwavering commitment to pushing the boundaries of creativity and expertise has propelled Shiv Narayan Jewellers to achieve extraordinary feats. They now proudly hold the distinction of being the only Indian jeweller to have earned 8 Guinness World Records™ï¸ titles.
Mr. Tushar Agarwal – Managing Director, Shiv Narayan Jewellers Pvt. Ltd. says, "We are deeply honoured to receive recognition from the FTCCI and the esteemed Honourable Minister Sri K.T. Rama Rao Ji for these distinguished jewels. This acknowledgement fills us with immense pride as we represent Telangana on a national stage and showcase the excellence of our craftsmanship. It is an incredible privilege to also represent India at the international level, and we are truly grateful for the opportunity to shine a spotlight on our remarkable jewellery creations."
Shiv Narayan Jewellers Pvt. Ltd. has long been recognized as the leading legacy jeweller in Hyderabad. By achieving this unprecedented feat, they have not only brought immense pride to Telangana but have also raised Indias profile on the global jewellery stage. As Shiv Narayan Jewellers continues to make indelible marks in the world of jewellery, they remain dedicated to their mission of crafting timeless pieces that resonate with elegance, innovation, and impeccable artistry.
The company was started by Seth Sri Shiv Narayan, the head jeweller to Mir Osman Ali Khan, the VII Nizam of Hyderabad. Since then, the brand has created many masterpieces. Today, it is in the hands of Mr. Kamal Kishore Agarwal and Mr. Tushar Agarwal, the current Chairman and Managing Director of the company.
For more information, please visit – shivnarayanjewellers.com.
​