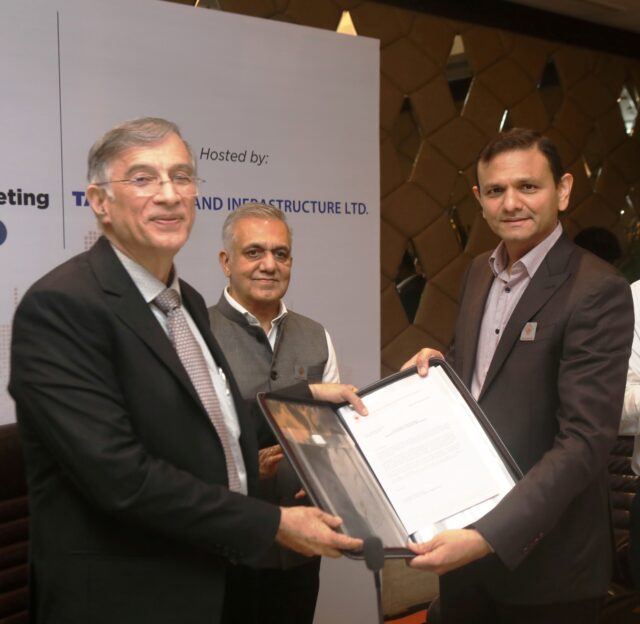 Mumbai: Sandeep Runwal, Managing Director of Runwal Group, took over as a President of the National Real Estate Development Council (NAREDCO) Maharashtra, an apex body of India's real estate industry. NAREDCO was established as an autonomous self-regulatory body under the aegis of the Ministry of Housing and Urban Poverty Alleviation, Government of India. It functions as a development & promotion council for the housing & real estate sector in India and plays a vital role in the formulation of national policies and agendas for real estate development and fiscal reforms. With support from the Government and prominent industry bodies, NAREDCO has an objective to create and sustain an environment conducive to the growth of the real estate sector in India. Mr. Niranjan Hiranandani, National Vice Chairman, NAREDCO and Chairman & Managing Director of Hiranandani Communities handed over the delegation letter to Shri Sandeep Runwal, President, NAREDCO Maharashtra to envoy the responsibilities going forward.
With a clear vision of bringing holistic development of the real estate sector across Maharashtra, Mr. Runwal aims to work closely with the Government bodies, to ensure success of 'Housing For All' initiative that aims to promote affordable housing in our country. Mr. Runwal shall be playing a massive role in streamlining the governmental processes to ensure timely delivery of homes by the developers to the buyers. His constant effort would be towards making the home loan available to all income groups so that no person is deprived of buying their dream home. He will also focus on the formation of new chapters, to expand the presence of NAREDCO across Maharashtra. His aim is to build trust between the customers and the developers by enhancing transparency, efficiency, and effectiveness in the sector.
Shri Sandeep Runwal, President, NAREDCO Maharashtra said that "With the support from the Government, NAREDCO Maharashtra would create a demand recovery that will push housing sales; particularly in the affordable segment that will drive the 'HousingForAll' momentum. Taking over this baton, I will try and undertake various aggressive development measures and make my maximum contribution in strengthening the industry's role in the economic development of the country. With the same zeal, my priority would be to revive the country's major real estate market of Maharashtra and implement novel ideas to bring positive changes among the customers' behaviour towards the sector.''
Mr Sandeep Runwal is the Managing Director of Runwal Group and spearheads the group across a portfolio of residential, commercial and organized retail. An alumnus of Harvard Business School and IIM Bangalore, he has led the organisation with a consistent emphasis on quality, execution, and timely delivery for over 30 years. He's been awarded 'Young Turks' by CNBC TV 18 and 'Lords of the Land' in his career profile.
Welcoming Shri Sandeep Runwal in his new role, Dr Niranjan Hiranandani, National Vice Chairman, NAREDCO and Chairman & Managing Director of Hiranandani Communities, said, "With the cooperation from the Government authorities and officials, NAREDCO Maharashtra has been able to achieve a certain milestone despite the pandemic scenario. We are rest assured that Shri Sandeep Runwal's invaluable guidance will bring progressive change for the real estate's overall growth and development in the state.''
Shri Rajan Bandelkar, National President of NAREDCO and Convener, Housingforall.com welcomed Shri Sandeep Runwal in a new role. He said, "We are extremely grateful to all the members of NAREDCO Maharashtra, who has contributed their efforts in initiating reforms such as ease-of-doing business, support for HousingForAll initiative, zero percent stamp duty, community development activities, etc. with the support from the Government authorities and officials. Now, Shri Sandeep Runwal taking the leadership forward, his long-drawn knowledge and experience in the real estate sector would help in taking up further great initiatives that will impact the growth of the sector in this region."