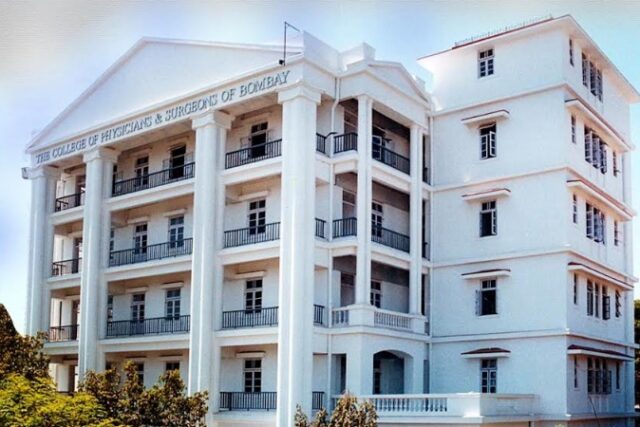 The College of Physicians & Surgeons of Mumbai, often referred to as CPS Mumbai or CPS Bombay, has been a cornerstone of postgraduate medical education in India since its establishment in 1912. Over the past 111 years, CPS has played a pivotal role in shaping the healthcare landscape by providing specialized training to thousands of doctors through its various Fellowship, Diploma, and Certificate Courses.
College of Physicians & Surgeons of Mumbai (CPS) since 1912 – Spreading Healthcare Education Nationwide
CPS Mumbai, located in the heart of Mumbai near KEM has consistently strived to meet the evolving needs of the medical profession in India. CPS Mumbai offers a diverse range of courses, including 10 Fellowship programs and 17 Diploma courses. These qualifications enable practitioners to register themselves as specialists in their respective fields, following the successful completion of a 2-year Diploma or a 3-year Fellowship after passing the requisite exit examination. For CPS Mumbai and its programs, please visit: www.cpsmumbai.org.
Established as a sister institution to the Royal College of Surgeons in London, CPS Mumbai functions as an examining body and provides affiliations to various government district, municipal, private hospitals and medical colleges across India. CPS Mumbais unique role as an examining body, along with its commitment to postgraduate medical education, has made it one of the few institutions for imparting specialized medical education.
Over the years, CPS Mumbai has granted qualifications to nearly 45,000 doctors, allowing them to register as specialists. These qualifications have been instrumental in addressing the shortage of specialist doctors in India.
Of the courses conducted by CPS, MCPS, FCPS (Medicine), FCPS (Surgery), FCPS (Midwifery & Gynaecology), FCPS (Ophthalmology), FCPS (Dermatology & Venereology), DGO, DCH, and DPB are recognised by Ministry of Health and Family Welfare and are included in Schedule of NMC act.
CPS Mumbai proudly stands as an institution deeply rooted in the ethos of excellence in postgraduate medical education. Its PG Diploma courses and FCPS courses continue to be not just a testament to its rich legacy but also a symbol of its enduring commitment to fostering the next generation of medical specialists.
The institutions unwavering dedication to excellence has garnered it recognition and respect, not only from within India but also on the global stage. The Medical Council of India (MCI)/National Medical Commission (NMC) has consistently acknowledged the high caliber of education imparted by CPS Mumbai, reaffirming its position as a leader in postgraduate medical training.
As CPS Mumbai looks ahead to the future, its vision is illuminated by the evolving healthcare landscape and the myriad challenges it presents. Embracing this changing terrain, CPS Mumbai is poised to play an even more pivotal role in preparing medical professionals to confront these challenges head-on.
The institution understands that healthcare is a dynamic field, marked by continuous advancements in medical knowledge, technology, and patient care. To this end, CPS Mumbai is committed to staying at the forefront of these developments, ensuring that its graduates are not just specialists but also pioneers, capable of shaping the future of healthcare.
With a heritage spanning over a century, CPS Mumbai stands as a beacon of academic excellence, guiding the medical community towards greater heights. Its legacy is a testament to the countless doctors who have passed through its doors and have gone on to make significant contributions to the field of medicine.
In essence, CPS Mumbais enduring mission is to provide high-quality medical education that transcends the boundaries of classrooms and textbooks. It is an education that reverberates through the halls of hospitals and clinics, enriching the lives of not only the doctors it trains but also the countless patients they serve. This commitment to quality education ensures that healthcare in India and beyond continues to progress, ultimately leading to better outcomes for all.
As CPS Mumbai sets its sights on the horizon, it does so with an unwavering resolve to shape the future of healthcare by nurturing the brightest talents in the medical field. It is a vision that carries the weight of history, the promise of innovation, and the unwavering dedication to improving healthcare outcomes for generations to come.
About CPS Mumbai
The College of Physicians & Surgeons of Mumbai, established in 1912, is an autonomous institution that offers Fellowship and Diploma, Courses in postgraduate medical education. Located in Mumbai, CPS Mumbai is dedicated to providing specialized training to doctors from across India and has a rich history of contributing to the healthcare sector in the country.
​