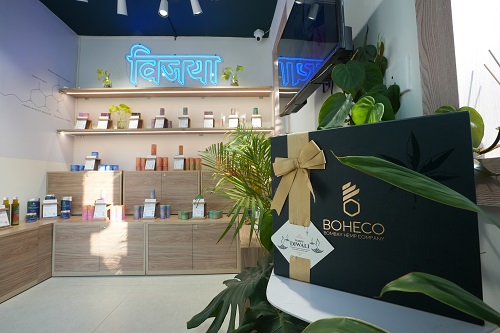 In a remarkable leap towards revolutionizing the CBD industry and expanding its footprint, BOHECO is thrilled to announce the launch of its Clinic and Store in Delhi – a one-of-its-kind CBD-based Health & Wellness experience. After a successful debut in Bangalore, Bombay Hemp Company (BOHECO) has opened a clinic and store in New Delhi to meet the demands of patients. Incorporated in 2013, BOHECO is at the forefront of the industry and strives to raise awareness about the multi-faceted benefits of the Cannabis Sativa plant and redefining the boundaries of the health and wellness sector.
Bombay Hemp Company – Clinic and Store Launch
BOHECOs best-selling products in this region reflect the specific needs of customers, with Pain Management Range (Oral) at 28%, Sleep (Oral) at 18%, and Anxiety & Stress (Oral) at 11%. This data underlines the strong preference for Pain Management (28%) and Mental Wellbeing (29%) solutions, with a combined contribution of 57%, showcasing the regions inclination towards solutions for holistic health and wellness.
With this launch, BOHECO aims to empower individuals with informed choices, debunk myths, and spread awareness. Partnering with certified experts and Ayurvedic doctors, the objective lies in providing personalized treatments to individuals and assisting them to choose the right, well-suited solutions from the pool of offerings available. The varied offerings include the full range of wellness solutions for treating maladies such as Chronic Pain, Sleep Disorders, Anxiety & Stress, Arthritis, Neuropathic Pain, Skin Inflammatory disorders, as well as nutritional and skincare solutions for overall health and epidermal well-being.
Co-founder Yash Kotak shares his vision, stating, "Our mission goes beyond geographical boundaries. Its about transforming lives, fostering informed communities, and pushing the envelope of what is possible. In this pursuit, Delhi emerges as a pivotal market for us to diversify our reach, contributing to 30% of our annual revenue. Grown by an impressive 41% over the last fiscal year, the region constitutes an average YoY growth of 43%, making it one of our fastest-growing markets."
The medical cannabis market is experiencing a robust growth rate of 24.3% CAGR, poised to reach an impressive $82 billion by 2027. In parallel, the Indian Brand Equity Foundation (IBEF) reports the wellness industry in India is valued at Rs. 49,000 crore (US$ 6.70 billion) and is experiencing a surge in growth, driven by the governments emphasis on fostering a healthy and active populace. Within this framework, CBD solutions are emerging as a traditional and indigenous medicine system for tackling persistent lifestyle-related health issues.
Approximately 30% of the global population grapples with pain-related issues, with 19.3% of the population in India facing such problems. This includes issues such as stiff joints and muscles, chronic stress & anxiety, arthritis, concerns over menstrual health such as PCOS, and more. Medical Cannabis has been gaining prominence as a remedy for these disorders and more, playing a significant role in rectifying these issues to some extent. This indicates the growth outlook that the sector has been witnessing.
Presently, the demand for plant-based health and wellness solutions is on an upward trend. The 2020 pandemic has been an eye-opener for many to reevaluate their consumption patterns and adopt sustainable choices in order to prioritize well-being and also contribute to the preservation of our planet. In an era where lifestyle-related health problems such as chronic pain, everyday pressures & anxiety, sleep disorders, and other ailments are ever-increasing, hemp and cannabis-based products offer holistic solutions for a healthier and more sustainable way of living.
Co-founder Chirag Tekchandaney emphasizes the commitment to expanding into new markets, stating, "Were not just venturing into new territories; were spearheading a movement to revolutionize the way people perceive and access the benefits of these incredible plants. Our vision entails enlightening the world about the incredible potential of hemp and cannabis."
This launch in New Delhi is an integral part of BOHECOs expansive growth strategy, with plans to establish 500+ touchpoints in collaboration with partner retailers by the end of the fiscal year.
About Bombay Hemp Company
Bombay Hemp Company (BOHECO), incorporated in 2013, is India's foremost industrial hemp and medical cannabis-based company reimagining the future of Indian health and agriculture through the Hemp & Cannabis lens. The uses of cannabis are kaleidoscopic. Pull out its fibre, and it will give you yarn; harvest its seeds for wholesome nutrition; study its genetics, and you'll find medicine; chop it into softwood for material to build shelter. BOHECO's design fuses this potential with the existing industries of Agriculture, Technology, Nutrition, and Healthcare; to bring together Community, Impact, and Value.
For more details, visit www.boheco.com.
​